DC/DC.BAT120 converter is a very useful in telecommunications systems and wherever we need a guaranteed power supply with backup from a single battery, and several output voltages: 12V, 24V, 48V/56V.
The first unique feature of our product are three sizes of output voltage from one supply voltage and backup from one 12V battery. This gives great savings in the purchase and operation of batteries and power supply devices wherever we require 24V and 48V. In addition, 48V can be switched to 56V (often present when powering devices with long Ethernet cables).
The second unique feature of converter is the ability to manage via LAN and Internet. Then we have access to information about the lack of mains supply, battery voltage, currents of outputs 24V and 48/56V, and we can turn off or reset the outputs. In addition, there is a controlled transistor output that can control e.g. a relay or fan, and a digital input for e.g. monitoring the opening of the power box door. Additional functionality is provided by temperature measurement. An internal temperature sensor and a digital 1-Wire bus port for connecting DS18B20 sensors are available. We can thus measure the temperature at any point of the power cabinet. All mentioned measurements can be sent for monitoring to the server via SNMP and HTTP protocols. A practical solution is also a 1U high housing for rack cabinets and an optional DIN rail mounting bracket.
Basic features
Compact power solution.
3 typical output voltages 12V, 24V, 48V (or 56V).
Requires only one 12V battery.
Remote management.
Examples of application
Power supply for telecommunications equipment.
Power supply for other devices requiring backup power and several output voltages.
Technical specifications
Rated power
| | |
| --- | --- |
| Total power | 100W |
| Recommended supply voltage | 24V |
| Maximum output current 24V | 4A |
| Maximum output current 48V | 2A |
| Maximum output current 12V | 1.5A |
| Maximum output current OutT | 0.5A |
Maximum power
For short time, e.g. starting the device. There is a risk of overheating when powered by batteries.
| | |
| --- | --- |
| Total power | 120W |
| Recommended supply voltage | 24V |
| Maximum output current 24V | 5A |
| Maximum output current 48V | 2.5A |
| Maximum output current 12V | 2A |
| Maximum output current OutT | 0.5A |
Typical (recommended) work with load for all outputs
| | |
| --- | --- |
| Recommended supply voltage | 24V |
| Output current 24V | 1.8A |
| Output current 48V | 0.7A |
| Output current 12V | 1A |
| Output current OutT | 0.2A |
Other parameters
Protection
6A
Battery cut-off voltage
11V
Recommended battery
gel or acidic
Operating temperature range
-20 to +40 °C (operation at higher temperatures allowed only with cooling)
Type of housing
1U with DIN rail mounting option
Dimensions (height x width x length)
45 x 90 x 110 mm (without handles)
45 x 90 x 147 mm (with handles)
Weight
490g (with handles)
460g (without handles)
Status panel on the management page

Front panel description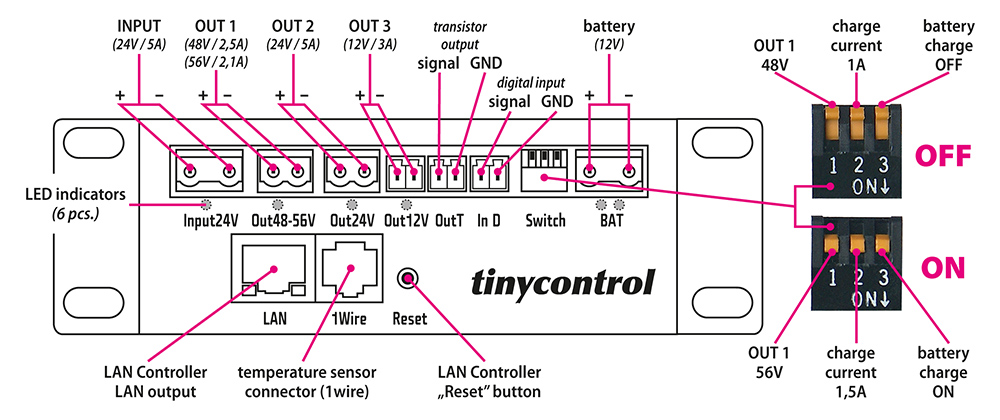 Download
Firmware
Filename: converterdcdc_v1_26e_DC.bin (520.7 KB)
For version with LC v3.5
Filename: converterdcdc_v1_47b11_DC.bin (341.7 KB)
For version with LC v3.0
Filename: converterdcdc_v1_47b1_DC.bin (341.7 KB)
For version with LC v3.0
Documents